The untimely end of Folk Art.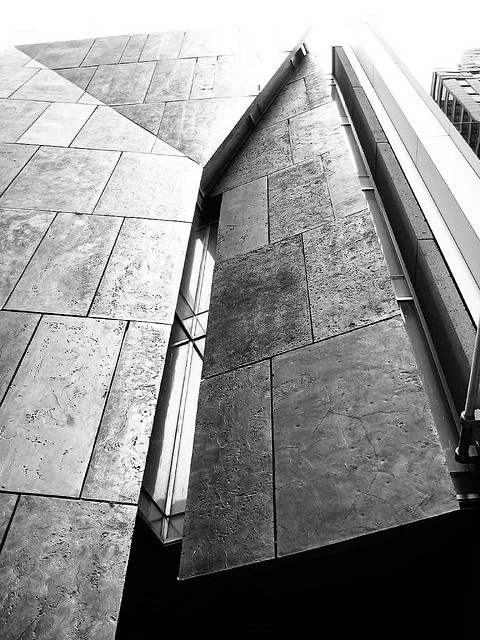 UPDATE! After a storm of criticism in the design community, The New York Times reported on May 9 that MoMA is reconsidering its decision. Hooray for public protest!
What do you do with a building when you don't like it? Well, if you're a behemoth cultural institution, you just…say…no. This week ushered in yet more bad news from the art world: MoMA is planning to demolish the former headquarters of the American Folk Art Museum. Apparently, according to the New York Times, the building—which MoMA acquired for $32 million in a lopsided deal that the Folk Art hoped would allow it to pay off most of its outstanding construction loan—just didn't fit the MoMA aesthetic: 'the opaque facade [was deemed] not in keeping with the glass aesthetic of the rest of the museum.'
AFAM—a lovely, lyrical small project on Manhattan's West 53rd Street—was created by architects Tod Williams and Billie Tsien, who are generally acknowledged to be masters of their particular vernacular, which is site- and subject- and time- and gestalt-appropriate buildings. The four-story structure is only twelve years old, which makes MoMA's decision particularly interesting and particularly, well, horrifying. The news that yet another bulldozer will soon show up in Midtown has incited a plethora of richly deserved criticism; from Designboom to HuffPo to the New York Review of Books, concerned citizens on both sides of the Modernist fence are lining up to take pot shots at MoMA. There's a petition, and a Twitter hashtag. Heck, even the original project architects have spoken out. Perhaps the harshest words, though, came from Ned Cramer, who wrote in Architect this week that 'It's as though the [MoMA] board voted to incinerate a Gerhard Richter painting because it didn't match the floor tile or fit through the doorway.'
I can honestly claim to have somewhat of a relationship with both the erstwhile Folk Art and the new MoMA, since I worked at the Museum of Arts and Design on West 53rd Street (across the street from both museums) during both the construction of the Williams/Tsien project and the expansion of MoMA. I should clarify here that I am not an architect (although I would have liked to have been), nor do I play one on TV. I am, however, a former museum professional, and as a lifelong student of culture—much of that study accomplished in a country where it was taken for granted that the arts would be nurtured and supported by citizens and the state alike—I think I can claim to have some idea of the worth of public architecture. I am also an ex-New Yorker and a former Midtown worker, and—thus—a reluctant student of the disruptions caused by large construction projects. And, without turning this into a modern-day David and Goliath story, I am more than happy to testify here on the smaller building's behalf.
Leaving aside the obvious comparisons between AFAM and MoMA (I said we wouldn't get into the David and Goliath story)—relative size, relative budget, relative endowment (not that endowment…the other one!), relative pronounceability of acronyms, relative whatever else there might be—and reacting to the news in a purely subjective way, wow. This one hurts. I remember, as I said, both the construction of AFAM and the reconstruction of MoMA, and while the former was fun to watch (Huge slabs of metal! Large hunks of wood! Outsider art! Resin!), the latter was decidedly not (Glass! Concrete! Glass! Concrete! Glass! Modernist tropes!). And, with regard to the reversal of AFAM's construction, I, a rationalist to the nth degree, am—as I implied earlier—going with feeling on this one. I suppose I could, to honor that rationalist streak and bolster my argument that new public architecture deserves a chance, enumerate the differences between the demeanors of the AFAM and MoMA public relations machines when it came to justifying the hell that MAD, as a cultural neighbor, was going to have to withstand during construction. I could talk about the believability of one machine over another when it came to making that cultural neighbor feel that it had a stake in the ground when it came to the owner of the machine's success. (I suppose it's not relevant to mention here the howls of disgust that echoed through MAD when David Rockefeller came out in the Times for MoMA's then-astronomical $20 admission fee, but what the heck; it's out now.) I could even drag out joint programming that ensued between that cultural neighbor and one of those institutions (can't find a link for that one; I assure you, it happened), and talk about how the other institution existed, in most of the MAD staffers' minds, as little more than a bar we could drink at after work, but I won't. (No point in that now, anyway, since the new MAD has its very own bar!)
What I will say is that when my brilliant curator bosom buddy Jennifer and I toured the new AFAM for the first time, I was moved beyond words. What Williams and Tsien had created was, simply, a brave building—an iconoclastic vessel for outsider dreams that stood apart from both its subject and its time and yet somehow managed to incorporate the spirit of the moment. It was strange, and wonderful, and exuberantly modern (no, MoMA, you do not own that word), and like no museum we had yet experienced. Its exterior had (some said) nothing to do with the art it showed within. It was (some said) hard, somehow, and unyielding. And it had (some said) bad feng shui. And yet (we all said), it worked. It worked in a completely visceral way, and I loved it. I loved it for what it was, and I loved it for what I saw in it, and I loved it for what I imagined it could be, and could represent, and for what it meant to MAD as our neighbor. I loved its long and hard birth as a forerunner of what we were about to experience during our reconstruction of 2 Columbus Circle. I loved it because it took a stand. And I loved it because it wasn't like anything else out there.
And MoMA did not.
End of story?
Some people still think of MAD's 2 Columbus Circle project as the desecration of a great work of public architecture (thanks again, Tom Wolfe, for that two-part editorial in the Times). Without going into great detail about the differences between the re-imagining of a building that was unsuccessful as a cultural space because it was not built for the type of art it would show and the destruction of a building that was unsuccessful as a cultural space because the institution that originally commissioned it failed economically, let me say this. It is entirely characteristic of the MoMA bureaucracy that I came to know and despise, during my tenure in the world of New York City cultural institutions, that it would make a decision to tear down a relatively new and undeniably interesting and important building rather than work hard to save it. Why? Because the act of destruction bespeaks a complete failure of imagination. And, sadly, that is what (to me) MoMA most accurately represents these days, what with its desperately blockbuster exhibitions and its less than innovative public spectacles: A failure of imagination, clinging to posterity. Sorry, MoMA.
It's anyone's guess how this story will end…debates over architecture in New York tend to incorporate a lot of surprises. However it ends, I hope it's MoMA that ends it, and I hope in a creative and (dare I say) imaginative way. How about a lab for Paola Antonelli? How about a new home for Kickstarter? How about a 3-D printing campus? How about a tech startup incubator? How about, in fact, anything except yet another extension of your glass curtain wall? Come on, MoMA. Show us some balls. Or don't you remember when your art was outsider, too?
Image by ryanouimette, via Flickr. And thanks, Jen, for this post's title.